09 Nov

6 books to help talk to your child about climate change

Many children and young people are anxious about climate change, write Pauline Jones, Anne Hellwig and Annette Turney. What does it mean for their future?


But can adults face the dilemma of how to talk to children about these incredibly serious issues without upsetting them further?

We are educational linguists investigating how writers and illustrators communicate ideas related to climate change to children. Books are an important way to help conversations around climate change in safe, age-appropriate ways.

Children's literature has long been the vehicle for talking about difficult subjects, exploring the world from different perspectives and offering readers a means to imagine different ways of living.

Here are six books from Australian writers and illustrators that can help parents and carers look at issues related to climate change with children from preschool to the late primary years.

They have been chosen because they offer their readers hope, foster relationships with the environment and encourage agency and courage. These can all help children develop positive coping strategies around climate change.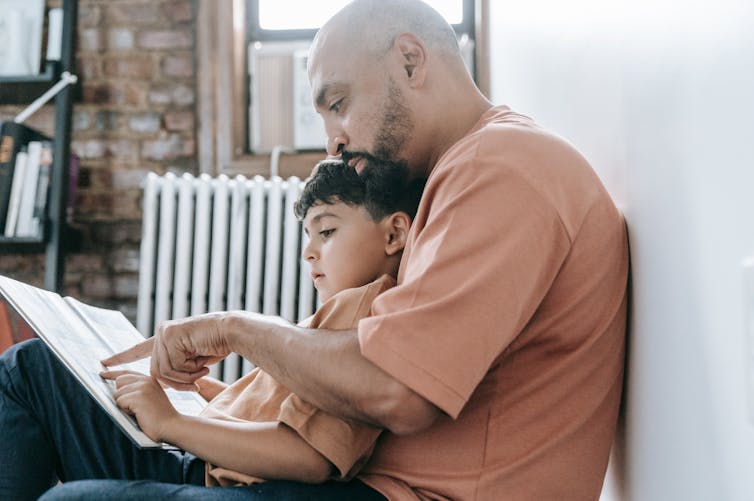 1. Walk of the Whales by Nick Bland. Ages 4+
Walk of the Whales shows children how the world around them is interconnected.
It is a simple tale of what happens when whales walk out of polluted oceans and establish homes on land. The ensuing chaos is brought to life through humorous illustrations, where the whales are shown wreaking havoc on their new homes. Imagine sharing a lane at the swimming pool with a whale or the state of the pavements when whales play jump rope!
This thought-provoking tale is told with a lightness of touch which will delight young readers while illustrating the consequences of our actions in a delicately balanced world.
2. Iceberg by Claire Saxby and illustrated by Jess Racklyeft. Ages 5+
Iceberg is a beautifully illustrated book that brings the luminescent beauty of Antarctica to life. It is told from the perspective of an iceberg over the course of a year.
It presents Antarctica as rich, dynamic and teeming with abundant sea life. For children, Iceberg makes a gentle plea to appreciate and protect the world around us before it is lost forever.
3. How to Bee by Bren MacDibble. Ages 8-12
How to Bee is set in a future Australia where insecticide has rendered bees extinct.
The importance of biodiversity is a key theme, as is our place within the ecosystem.
However, the strongest environmental message is carried by the fierce nine-year-old Peony. Her fraught battle to return home parallels the return of bees to the farm and hope for the future.
For children struggling with climate anxiety and feelings of powerlessness, this novel models strategies for building resilience.
4. Bindi by Kirli Saunders and illustrated by Dub Leffler.
Ages 8-12
With an El Niño event underway in Australia, young readers may find refuge from climate anxiety in the pages of Bindi.
This beautifully illustrated verse novel is told from the perspective of an 11-year-old Indigenous girl as her town survives catastrophic bushfires.
The poetry evokes an idyllic rural childhood while also propelling a cracking plot. Gundungurra language (from southeast New South Wales) is woven throughout, inviting readers to learn the Language (canbe means fire). Children will find strength in this story of perseverance and healing and may also develop a deeper connection to Country.
5. The Giant and the Sea by Trent Jamieson and illustrated by Rovina Cai. Ages 8+
This is an exquisitely illustrated picture book that tackles climate change in a lyrical and rhythmical style.
A giant stands watch over the sea and warns a "brave girl" that the sea is rising. This girl is reminiscent of young climate activists whose warnings – like those of our child hero – are often dismissed, with increasingly disastrous consequences.
The book deals with themes of whose voices count, the problem of unsustainable growth and how humans will adapt to different futures.
The Giant and the Sea doesn't shy away from the effects of global warming, noting, "There is only so much that bravery can do". Despite its dystopian conclusion, young readers will find the book motivating and hopeful because it shows they have a role to play alongside adults in this multigenerational problem.
6. Blueback by Tim Winton. Ages 8+
Blueback charts the life of Abel from child to adult.
It is a fable that explores his deep connection to ocean life and the human pressures on the natural world.
Through Abel's mother, Dora, Winton offers children a hero whose dogged but successful campaign to save a threatened site spreads
like a coral spawn, those letters, tiny white messages that drifted out from Longboat Bay into the offices of people all over the country.
In such beautiful prose, Winton shows children the importance of courage and resilience and reminds us all of our collective responsibility for the environment. This is a book that can inspire readers of all ages.

---
Pauline Jones, Associate Professor in Language in Education, University of Wollongong; Anne Hellwig, Adjunct lecturer, Literacy, Linguistics and Semiotics, University of Wollongong, and Annette Turney, Lecturer of Language and Literacy Education, Australian Catholic University
This article is republished from The Conversation under a Creative Commons license. Read the original article.