21 Oct

Jamming with your toddler:music trumps reading for childhood development

If you want to fast-track your child's development, forget CDs, books that beep, and toys that whirr, writes Liam Viney. Play music with them, with the emphasis being on "play".

Forget the Mozart Effect and Baby Einstein, take it easy on acquisitions for your two-year-old's private library, and don't fret if your three-year-old hasn't started violin lessons just yet.

The key to unlocking a child's potential intelligence and happiness may indeed lie in music, but succumbing to the commercial juggernaut that is the baby-genius-making industry may not be in either your child or your wallet's best interest.

Instead, try making up songs with your toddler. A new study suggests that regular informal music-making with very young children may even have benefits above and beyond those of reading.

But there's an important, interesting, and somewhat beautiful catch – for best results, make it shared music-making in your home.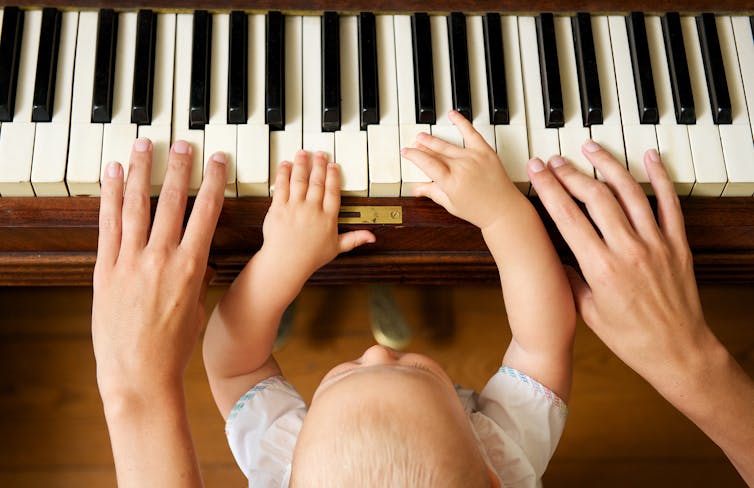 In an analysis of data generated from a study involving more than 3,000 children, a University of Queensland team investigated the associations between informal home music education for very young children and later cognitive and social-emotional outcomes.
The team found that informal music-making in the home from around the ages of two and three can lead to better literacy, numeracy, social skills, and attention and emotion regulation by the age of five.
By measuring the impact of music and reading both separately and in combined samples, the researchers were able to identify benefits from informal music activity over and above shared book reading, most strongly in relation to positive social behaviour, attention regulation and to a lesser but still significant extent, numeracy.
Part of an Australian Research Council funded study titled Being and becoming musical: towards a cultural ecological model of early musical development, the study aims to provide a comprehensive account of how Australian families use music in their parenting practices and make recommendations for policy and practice in childcare and early learning and development.
Last month, the team was awarded the inaugural Music Trust Award for Research into the Benefits of Music Education.
Music and its relationship to mental and social development has long captured the attention of parents, researchers, even philosophers.
Science has shown that music's effect on the brain is particularly strong, with studies demonstrating an improvement in IQ among students who receive music lessons. Advantages in the classroom have been identified for students who study musical instruments, and the effects of ageing on cognition may even be mitigated through lifelong musical activity.
So how is this study different, apart from its focus on early childhood?
Crucially, its findings are based on situations where the child's musical activities were informal and shared, typically with a parent – essentially a playful social experience.
Simple and fun musical activities can have enormous power in developing numeracy and literacy: try improvising a counting song, or making up new rhymes to familiar tunes.
But the true power of musical play lies in the unique blend of creativity, sound and face-to-face interaction; the learning is strengthened by its basis in a positive, empathic emotional relationship.
Parents are increasingly enrolling very young children in specialist music classes – undoubtedly a positive development. Reading, however, is rarely "outsourced" in this way, and this study suggests that parents should feel encouraged and empowered in tapping their own inner musician before looking outside the home.
As with most aspects of parenting (in my personal non-scientific experience), there is no substitute for a parent's personal involvement, even if it involves long-forgotten modes of behaviour such as taking simple pleasure in making sounds.
Being playful with sound is something we're all born with – indeed, toddlers are humanity's greatest virtuosos in that regard – yet too many are silenced over the years by the "better seen than heard" brigade.
It's no accident that we talk about "playing" a musical instrument; a turn of phrase that too easily becomes sadly ironic if formal music lesson structures calcify into strictures.
So recapturing a sense of play (if you're an adult) is crucial to the process of shared music-making, and this research invites parents to focus on the element of "playing" music with toddlers, using any tools at hand.
The human voice is a great place to start, and the kitchen cabinet contains a wealth of percussion instruments. Whistles and bells could be the next step, followed by a toy piano for more ambitious stage parents.
Long before conventional music lessons start, jam sessions with your toddler (not of the messy sticky preserved fruit variety) can be an enormous developmental asset.
You might even find it a two-way street – if children can teach adults anything, it's how to play. So take the time, play with your child, and "play" music together.
Along with the newly-confirmed bonus benefits for baby, you'll both be connected to music: a fundamental component of a happy and healthy life.

---
Liam Viney, Piano Performance Fellow, The University of Queensland
This article is republished from The Conversation under a Creative Commons license. Read the original article.