07 Nov

More Bluey, less PAW Patrol

Researcher Liam Burke looks at why Australian parents want locally made TV for their kids

Australian kids today have greater access to screen entertainment than any generation before. Across smartphones, tablets, laptops and the old-school TV set, streaming services mean there is an endless supply of kids' content from around the globe.

But as our new research shows, many Australian parents still want Australian-made content for their kids because it reflects local experiences. It also tends to balance fun with education.
What is happening to Australian kids' content?
In 2020, the federal government removed quotas for local children's television on free-to-air commercial networks. This has had a significant impact on what is available on our screens.
In August, the Australian Communications and Media Authority found Australian children's content on commercial broadcasters had dropped by 84% between 2019 and 2022.
Meanwhile, with Network 10 now a subsidiary of global media conglomerate Paramount, pay TV children's channel Nickelodeon moved from cable to free-to-air in August this year.
So at a time when Australian kids' content is disappearing from TV screens, hit overseas shows like PAW Patrol (a program about cartoon rescue dogs), SpongeBob SquarePants and Blaze and the Monster Machines are more available to Australian families than ever before.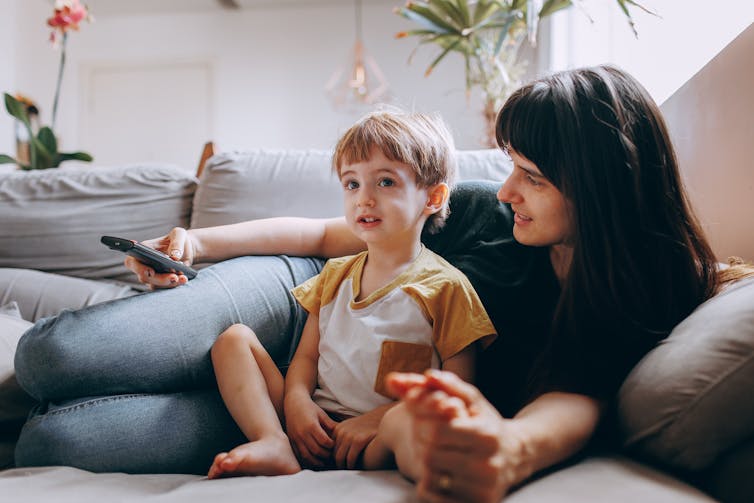 Our research
We surveyed Australian parents as part of a broader research project on Australian children's television cultures.
The national survey involved 333 parents of children 14 years and under between August and October 2022.
We asked about how Australian families find, watch and value local kids' TV in an era of streaming services and global distribution.
Our findings
Our research suggests Australian parents strongly value local TV content for their kids. Of those surveyed, 83% say it is important their children see Australian-made programs. As a New South Wales dad-of-one explained:
[local TV] leans into our unique heritage without alienating those who have other experiences. Teaching about what it means to be Australian without creating a firm definition.
When asked what characteristics make "good" Australian children's shows, parents said relatability, positive messages and humour were key. A Queensland father described how local shows instil
Australian values like fair play and helping your mate as opposed to the US-style 'look out for number one'.
Parents also explained how humour was relaxed but not crude. As a mother-of-two remarked "poop jokes are fine" – a reference to how rude moments from Bluey have been cut by international distributors.
Showing Australian reality on TV
Perhaps unsurprisingly, parents identified Bluey as the show most watched by their youngest (65%) and oldest child (39%).
Most parents also highlighted education as an important feature of Australian children's TV. Many drew contrasts with international content to make the point that Australian children's television tends to pair education with fun and does not "talk down" to children.
Highlighting Little J & Big Cuz – an animated series about two Indigenous Australian children living with their Nanna – a Tasmanian father celebrated how local kids TV
doesn't shy away from the reality that kids experience and incorporates the wide variety of 'real Australia' without being cliched.
A mum from a Canadian-Australian household noted how, unlike overseas content, local shows such as Kangaroo Beach highlight things that are important to Australian life, such as water and sun safety. Similarly, a Melbourne mum emphasised how local specificity is important for young children.
it can be hard to explain why we can't get snow in the winter in Australia.
Kids are still watching TV on TV
In an era of seemingly endless streaming services, we asked about the devices parents use to access children's television.
A huge 95% of surveyed households still use television sets to watch children's shows and content. But the most popular "channels" are almost exclusively streaming services, such as ABC's video-on-demand services (93%), Netflix (73%), YouTube (66%) and Disney+ (60%). The next most popular devices were tablets (53%) and smartphones (30%), while older children often used computers (21%).
Streaming services without clearly demarcated "kids" sections or that are not well-known for "all-ages" entertainment were less frequently used than those with prominently placed areas for children's programming.
Four times as many parents identified Disney+ as a service their children use compared to Prime Video, despite Prime Video having a similar number of Australian subscribers.
Safety is key
We also asked parents about what features and functionality they value in streaming services.
They are concerned about safety, with participants identifying parental settings and controls as the most important feature of streaming services so their children don't end up watching inappropriate content.
Parents also emphasised the importance of streaming services having content that can be watched together, with nine out of ten parents watching TV with their kids (usually at weekends).
Bluey was the show parents were most eager to watch with their children (60%) Other programs parents were happy to watch with their kids included time-tested Disney movies like The Lion King and Frozen and Australian favourites like Play School and Little Lunch – a program set in a suburban primary school.
What now?
At a time when audiences have access to shows from across the globe on multiple devices, the Australian parents in our research still value content that communicates local experiences and culture.
However, with protections for the Australian children's television sector removed it remains to be seen how long can locals such as Bluey fend off overseas rivals like PAW Patrol.
---
Australian Children's Television Cultures is a Swinburne University of Technology project in collaboration with RMIT University.

Liam Burke, Associate Professor and Cinema and Screen Studies Discipline Leader, Swinburne University of Technology
This article is republished from The Conversation under a Creative Commons license. Read the original article.
---