24 Aug

One fifth of breastfeeding women report an aversion response

Melissa Morns writes that many women say that they 'feel guilty for feeling like that.'

The benefits of breastfeeding are widely recognised, and many women find it an enjoyable and bonding experience. Women also often face challenges that can make it difficult to breastfeed, such as sore nipples or mastitis.

Women sometimes also experience more complex breastfeeding challenges, such as a breastfeeding aversion response – negative feelings that last throughout the feeding session and conflict with the woman's desire to breastfeed.

Women describe these feelings as overwhelming, uncontrollable and confusing. For some mothers, it can be visceral, like "fingernails down a chalkboard". One woman described it as "intense":

[…] it was both a mental and physical feeling like you want to throw your child off. You just can't feel this feeling like you've got something crawling underneath your entire skin, that's why this felt like you wanted to rip your skin off and just, you know, escape it.

Such descriptions make it clear breastfeeding aversion response is different from breastfeeding pain and dysphoric milk ejection reflex, which are both negative breastfeeding sensations that typically happen only during the first few minutes of the feeding session and then stop.
How I came to research breastfeeding aversion
I experienced breastfeeding aversion when tandem breastfeeding my toddler and newborn. At the time, I had completed a master's in public health and read the book Adventures in Tandem Nursing by Hilary Flower, which described feelings of tandem breastfeeding aversion. Tandem feeding is when siblings who are not twins are breastfed, either together or at different times.
In 2013 I started a small online support group for nursing aversion. In 2016, a research study described negative sensations while breastfeeding. But research about this breastfeeding challenge remains limited.
Our recent study of 5,511 Australian breastfeeding women found breastfeeding aversion response may be common, and as many as one in five women reported having experienced it. Those who are more at risk are women feeding their first infant, tandem and pregnant breastfeeding mothers, and women breastfeeding around the time of ovulation and menstruation. Further research is needed to investigate if some mothers describe feeling breastfeeding aversion with their newborn as a result of other breastfeeding issues such as nipple pain.
Breastfeeding aversion response can negatively affect maternal identity, and some women in my research describe feeling unsupported and isolated.
It felt like it was something that I was doing wrong, like that it was something that was wrong with me. When I first hadn't heard of anyone having it, then I was like, why am I experiencing this? Like, why doesn't anybody else seem to be experiencing it? Why do people say it's so enjoyable when I am finding it so tough?
At this point, we don't know what causes breastfeeding aversion response or whether it is linked to hormones, nutritional status, or evolutionary and genetic factors.
Women who experience breastfeeding aversion response often have difficulty finding understanding and support from others. Practical support from others can help women to continue breastfeeding, including those who are tandem feeding a toddler and newborn.
In our research, one woman described how her husband provided practical support.
[He] would recognise what was happening and would take [child one] away and distract him with something, like 'let's go check a letterbox' or 'let's go and feed the chickens'. While I stayed inside and fed [child two] quietly without someone hassling me for that feeding session.
With helpful support and understanding, many women who experience breastfeeding aversion response can continue to breastfeed and go on to have an overall positive breastfeeding experience.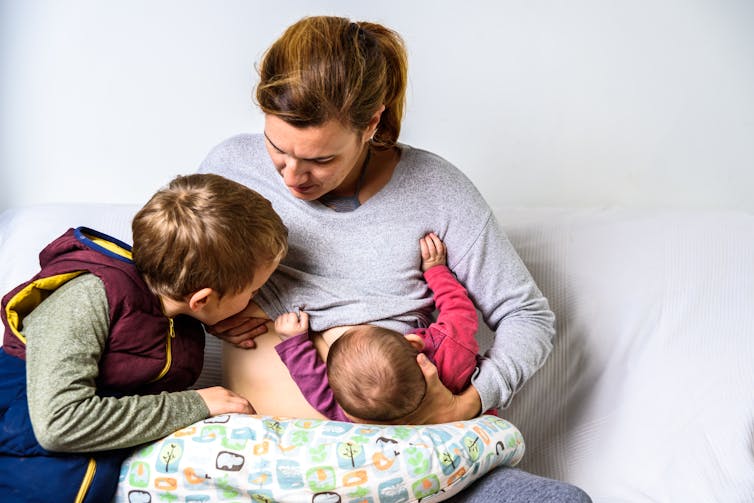 What helps?
Some women in our research said taking a magnesium supplement helped them continue breastfeeding. Others used personal distractions while breastfeeding, such as focusing on their phone. Setting breastfeeding boundaries with older children also helped.
Mothers who experience breastfeeding aversion and are supported to continue to breastfeed and achieve their personal breastfeeding goals can report an overall positive breastfeeding experience.
Many health professionals are not familiar with complex breastfeeding challenges and so those who are experiencing breastfeeding aversion may feel isolated. The Australian Breastfeeding Association or an accredited lactation consultant can provide support.

---
Melissa Morns, Ph.D. Candidate Public Health, University of Technology Sydney
This article is republished from The Conversation under a Creative Commons license. Read the original article.
---